Find Rainey's books at: https://www.4authenticity.com/books
2018
Rainey published 3 children's books that share her powerful message to children with the help of Whales and Dragons.
2012: 
The Water Code: Unlocking the Truth Within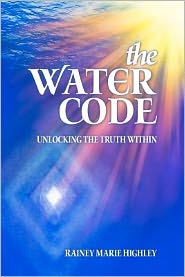 "The Water Code—Unlocking the Truth Within" by Rainey Marie Highley was selected as a winner in the 2012 Living Now Book Awards in the Healing Arts/Bodywork/Energy Techniques category.
Our reality is shifting with our increased awareness.
Our bodies are changing.
Water holds all the keys to our ascension process.
Thank you Rainey for your hard work!!!
September 2011:
Following our Dolphin adventure, Rainy went to French Polynesia to swim with Humpback whales. Rainy took the Turquoise bubble to the next dimention and returned with a powerful message that she shares with Jean Luch Bozzoni:
For the full message click here: http://eyewithin.com/DRAGONenergy.html
Whales and Dragons are from a matrix beyond human thinking.
Yet, when we intuitively feel from the heart… here they are; the Gate Keepers of our next journeys.
These Masters of Peace and Light will show us how to direct Energy for Creation.
Dec 2010:
I recently received a gift from Rainey Marie Highley who said she found synchronicity between my messages and sources and hers. Rainey was herself gifted with access to higher intelligence through channeling and wrote a book for the awakening of us Lightworkers: "The Divine Macroverse "

Rainey's book arrived at the right moment in my life and confirmed the visions that brighten my moment. Through very simple messages, each chapter allows the energy form of each of our 13 dimensions of existence to clarify our origins, uplift our existence in this moment and free us into the field of infinite possibilities.
Lightworkers, this is a book for you. This is our call to Action!
The awakening is now.
"The moment has come"-is now.
Thank you Rainey! You are right, we shine brighter each moment.